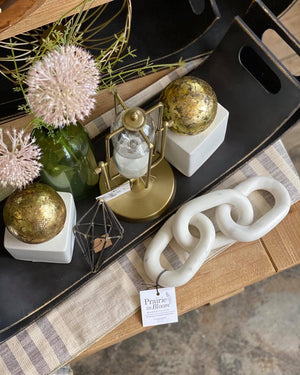 Curated Collections
Lukas Rix is bringing the rural life to the city with Prairie in Bloom, a home décor boutique in Omaha's historic J.F. Bloom & Co. building.
We hand-pick a mix of vintage and new farmhouse and industrial home décor pieces for our curated collections. You'll also find heirlooms, realistic-looking faux florals, and scented soy candles that will make your home feel warm and inviting.
Where it all began...
Lukas opened his first business in the heart of downtown Wayne, NE, in 2012. Rustic Treasures opened its doors on a consignment basis, splitting the profit 50/50 with consignors. In early summer 2016, Lukas realized his style of farmhouse chic was a growing trend across the nation. Forming a strategic relationship between a few artisans to offer new products and their hand-picked vintage finds, the 1912 Emporium was born.

Now, he's bringing his passion for home décor to Omaha with Prairie in Bloom. He knew that many of his customers were making the 120-mile road trip to 1912 Emporium from the Omaha area – so why not bring the merchandise that they love closer to them?
Lukas found the perfect location in the historic Bloom building in the up-and-coming North Downtown innovation district – and came up with the perfect name. 
He looks forward to enjoying many years of helping customers in Omaha and beyond find special accents that make their house a home.
Why Shop at Prairie in Bloom?
Your senses will be awakened when you walk through the door at Prairie and Bloom. Depending on the season, you'll smell the sweet aroma of an apple butter candle – or maybe a pine cone scent at Christmastime – as you browse our collections in our 4,000-square-foot store.
It's kind of like being at Grandma's house.
You'll be engulfed with the culture of farmhouse and industrial décor as you wander through the store and you'll enjoy unparalleled customer service. If you're not sure how you'd use a décor piece in your space or need help pairing items, our in-store interior designers will offer personal assistance and share their expertise.
Prairie in Bloom is an inviting atmosphere, and our team is welcoming and warm – just like we want your home to be.