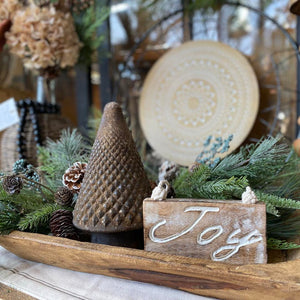 So many new items to shop from this year!
Heirlooms & Curated Collections
Prairie in Bloom is a shopping experience in the innovation district of North Downtown Omaha and in West Omaha. We hand-select all the items in our store, many of which are one-of-a-kind pieces. Be inspired to transform your home as you browse our stores and let our in house designers take the stress out of decorating.
Our Latest Facebook Live Video
Watch out latest Facebook live video to check out our store and see featured items.
Our Story
Lukas Rix is bringing the rural life to the city with Prairie in Bloom, a home décor boutique in Omaha's historic J.F. Bloom & Co. building. 
Read More
Flagship Location
Shop our flagship store located at 17th and Cuming and enjoy large displays to inspire your decorating needs. Prairie in Bloom is in the historic J.F. Bloom & Co. building in the innovation district in North Downtown Omaha. We recommend spending plenty of time here – not just with us, but also exploring the entire neighborhood. North Downtown is the city's fastest growing neighborhood that has an urban chic vibe while maintaining its historic character. Shop unique boutiques like ours, grab a great cup of coffee, catch your favorite indie rock band, or watch a powerful documentary film. If you love sports, Prairie in Bloom is just two blocks from TD Ameritrade Park Omaha, the home of the NCAA Men's College World Series. There's plenty to do in North Downtown. Come spend the day with us!
140th and Center
New in 2022 shop our newest location at 140th and Center St. If you have shopped at our downtown location you know we love a full store with lots of options for your decorating needs. Want to know the best part? When you shop in West Omaha you will see new arrivals every day because our receiving warehouse is right on site. Offering convenient next day in store pick ups at this location is another bonus.